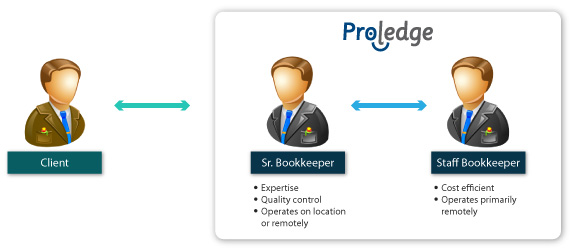 Can an independent bookkeeper do this, at the same price?
Trust
Your books are primarily worked on by the Staff Bookkeeper to

keep your cost low

, but they are always reviewed by very experienced bookkeepers to ensure quality. No bad surprises when you hand over your books to your CPA.
Made in America: ProLedge's bookkeepers are all based in the US. We do not send any of our clients' work to offshore contractors.
ProLedge's bookkeepers are 

meticulously hired and trained

: 

Thorough interview process
Criminal background check
References checked
On-going training – most of them are certified QuickBooks Pro Advisor bookkeepers
Cost efficiency
Do your books always need the same level of expertise, week in and week out? Most likely not. At ProLedge the mix of Sr. Bookkeeper vs. Staff Bookkeeper work gets tuned over time based on your needs.

You pay for the skills that you need,

at the time that you need them. Not a cent more.
When approrpiate we leverage our technology to allow our bookkeepers to work remotely. This saves on travel cost and time.

The savings are passed onto you

.
Dependability
Have you ever lost a bookkeeper? Not pleasant, is it? Your books come to a stand still and you have to start the cycle of recruiting, training and trusting a new bookkeeper again.
At ProLedge, there are always 2 bookkeepers who know the details of your books. If  we lose one, we replace him/her in a matter of hours, with

no loss in productivity

to you and no extra cost.
Convenience
We can work at your office or remotely. Or both! In the Austin, Dallas and Houston metros, our bookkeepers can drive to any location.
ProLedge has an extensive technology infrastructure to facilitate remote work: QuickBooks hosting, document management, task management, etc… It all depends on your needs.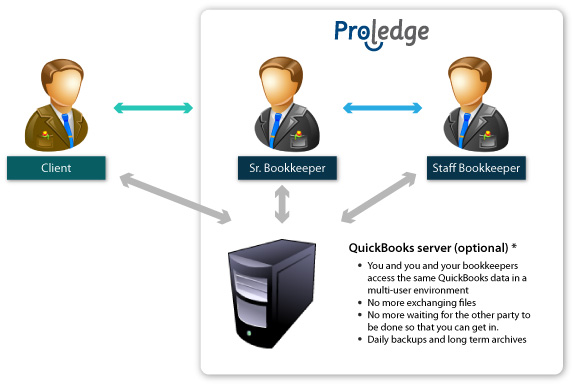 * To be in compliance with Intuit's licensing rules, any user accessing QuickBooks on ProLedge's servers needs to own a license of the same version of QuickBooks. ProLedge maintains records of such licenses.