Two Sets of Eyes – Looking Out For Your Business
ProLedge proudly offers professional and affordable bookkeeping services and Quickbooks help to small businesses across Texas with offices in Austin, Dallas, Houston and San Antonio.  We understand the importance and difficulty in finding a competent set of eyes to successfully manage Quickbooks.  So, at ProLedge, we decided to give our clients two sets of eyes, you know, for peace of mind.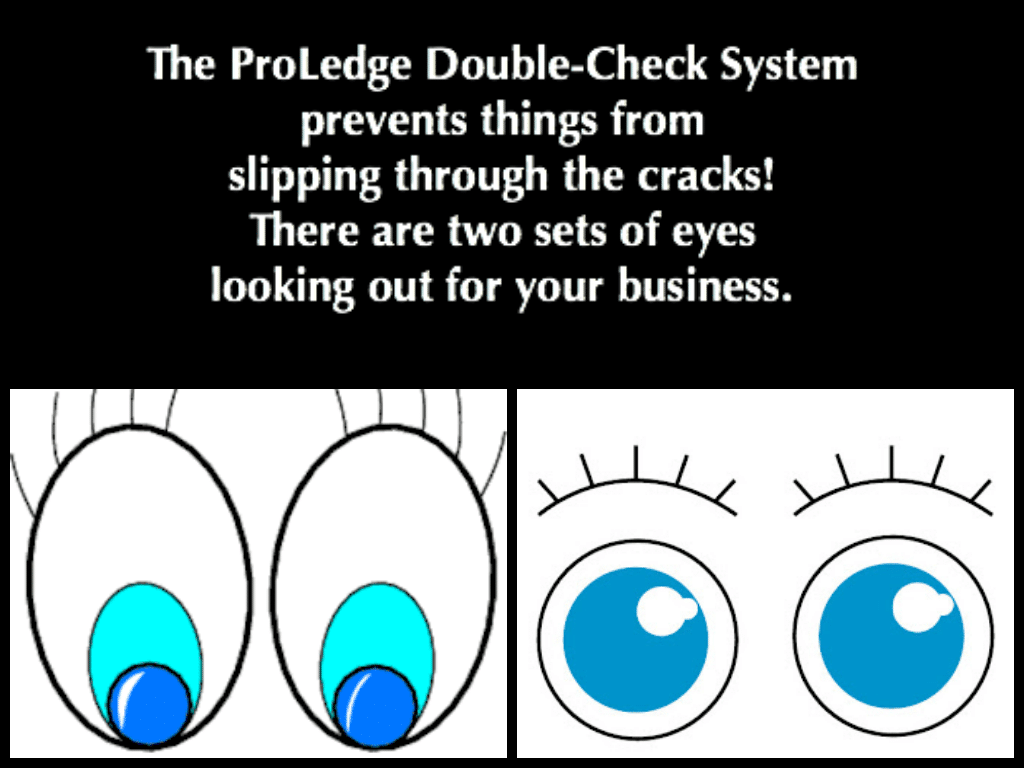 We structure our client bookkeeping support system with an Account Manager and a Staff Bookkeeper.  This double-check system keeps things from slipping through the cracks.  Your books are primarily worked on by the Staff Bookkeeper to keep your cost low, but they are always reviewed by very experienced bookkeepers that serve as Account Managers to ensure quality.  Nobody wants surprises when you hand your books over to the CPA!
 
ProLedge Bookkeepers are all based in the United States – and are some of the best in the business.  Prior to being hired each bookkeeper goes through a meticulous interview process, criminal background check, and reference examination.  Once hired, ProLedge Bookkeepers are required to participate in on-going training and continuing education – most of our Account Managers are certified QuickBooks Pro Advisor bookkeepers.  Again, your peace of mind is our priority.
 
The dual bookkeeper system also helps save you money.  We understand your books don't always need the same level of expertise week in and week out.  Over time, we learn the mix of Senior Bookkeeper / Staff Bookkeeper that works best for your needs.  You pay for the skills you need when you need them – not a penny more.  We bookkeepers love cost efficiency!
 
Dependability.  That's another perk of our dual bookkeeper system.  With ProLedge you never have to relive the nightmare of losing a bookkeeper and watching your books come to a screeching halt as you begin the cycle of finding a suitable replacement.  There are always two bookkeepers that know your books inside and out.  If we lose a bookkeeper, they are replaced within a matter of hours with no loss of productivity and no cost to you.
 
If you're considering outsourcing your bookkeeping services, meet some of our ProLedge Bookkeeping MVP's – they'll tell you why we're the best solution for your small business.
Post a comment